Wheel Lift Kit
Retractable Wheels for Your Chicken Tractor
The Wheel/Lift Kit is designed to help solve the move-ability problems many do-it-yourselfers encounter when designing and building a chicken tractor. Easily add wheels to almost any chicken coop or tractor.
Add Ease to Your Own Chicken Tractor
Moving a chicken tractor without wheels is just plain exhausting. You may have made your own chicken coop, and you need a way to transform it into a tractor. Maybe you are just beginning to explore the possibility of making your own chicken tractor. Either way, you have come to the right place. Continue reading to see how you can succeed in DIY chicken tractor building.
Mobile Chicken Tractor Made Easy
Building your own chicken tractor is no small feat. You have these impressive goals and aspirations of how you will engineer your chicken tractor, but you need a way to make this tractor move. Our wheel lift system kit will make your mobile chicken tractor possible.
Boost your Happiness
The ultimate goal of designing and building a chicken tractor is your own happiness. Our wheel lift kit will add the mobility you need to transform your coop into a tractor. As you wheel your chickens around easily, you will feel confident and proud of your invention that allows your chickens to give and receive so much from your yard.
Designed for Your Satisfaction
Do you want to feel completely satisfied with the success of your chicken tractor? Your satisfaction is imminent with our wheel lift system kit. It has a two-pedal feature to raise the chicken tractor when you step on the front pedal and lower it when you step on the backpedal. It also has a handle that makes moving the tractor rather accommodating. The chicken tractor lifts enough to move well, but not enough so that the chickens will escape during the moving process. It is a perfect addition to your unique DIY chicken tractor.
New Tractor, New You.
The wheel-lift kit is a convenience that will save you time and help you be a more productive person. Do not wait to take on this new level of satisfaction. You can become an efficient natural person who proactively cares for the health of your family, your chickens, and your lawn by adding wheels to your chicken coop with our wheel-lift kit.
Chicken Tractor Wheels Kit Features
Moving the chicken tractor that you ingeniously designed will take on a new meaning of convenience with our chicken tractor wheels kit. The wheel-lift kit is meticulously designed for your success. Adding retractable wheels to your chicken coop will make a world of a difference. Don't wait to begin your journey to success.
Lift Wheels
Separately-operated lift wheels accommodate even large chicken tractors*. Easily use your foot to lift and lower the back corners of your unit independently.
Handle Dolly
The front dolly can remain attached or be added and removed as needed. The dolly allows you to easily lift and steer while moving the chicken tractor.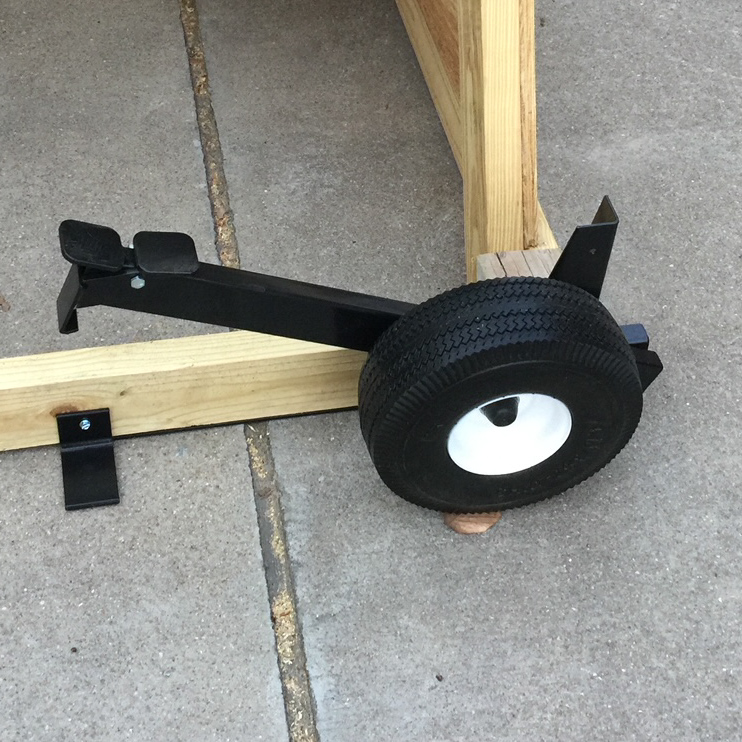 Foot Pedals
Step on the front pedal to raise and latch the unit in the up position. The rear pedal releases the latch and lowers the unit to the ground to protect from predators.
*For optimal portability, we recommend the lift kit for chicken tractors measuring up to 10'x12' and weighing up to 400 lbs.
 Complete Your Perfect Chicken Tractor
1. Add Wheels
Your journey to satisfaction begins here. Adding the wheel-lift system to your tractor will bring the perfection it is missing. Being able to easily move your chicken tractor is a luxury you deserve.
2. Move Easily
Being able to move your tractor will open up many doors to success. Using our wheel-lift kit to move your chicken tractor will take little time. Anyone from a wide age range can easily move your tractor.
3. Be Happy
You will experience the joy of constantly giving your chickens fresh nourishment without breaking your back. You can experience the benefits of a chicken tractor without the unnecessary work.
Buy Now
our feedback
What customers are saying…
Your product has been a tremendous help to me.  I would not have been able to move my chicken tractors without it.  I actually bought a different system for a second chicken tractor, and it did not hold up as good as your product did.  I would recommend your product to anyone.  
Kevin B.
I have an unconventional setup that houses my chickens in a mobile coop which is outfitted with your egg cartn system.  When the weather turns cool in the Fall I "dock" the mobile coop with a stationary structure so it  effectively doubles the size for the colder weather. Your product enables me to secure a "tight fit" between the two structures. It looks kind of goofy but keeps the birds safe and secure. I'll send a photo if I can find one. I'm really thrilled with the quality and utility of the egg cartn system. Great design and nice heavy construction!  
John C.
Hi! I'm very thankful for the kit to make my coop mobile. I had relied on the muscle from my neighbor to move it every week or two, but he moved so I was left without a way to give my chickens clean roosting. I was trying to design my own kit looking up images and blogs online, but it was such a hassle that I decided I just needed to bite the bullet and fork out the money for one that was ready-made. Your kit, in one afternoon with my dad and some retrofitting, has made moving it by myself a reality.
Christine N.
I ordered the wheelset from Egg Cart'n because it was clearly designed for a large, heavy chicken tractor coop/run combination like I had built. I didn't factor in how heavy the structure would be when I designed it, so the wheelset saved the day.  
Annette T
What I really like about your kit is, it is made so well. So sturdy, great thick materials, the wheels worked great, the handle and the corner supports all did their jobs and then some. The coop we built is probably on the bigger side of the weight limit, and I felt like the wheel kit was definitely strong enough to handle moving the coop. It is absolutely everything you advertised it to be. I feel it is a wonderful product.
Amanda S.
The Process to Transform Your Chicken Tractor
Success is fast-approaching with our wheel/lift kit. Our simple five-step instructions give you all the information you need to effortlessly add wheels to your chicken tractor in about 15 – 30 minutes. All you need to transform your chicken tractor is a screwdriver or a bit driver, and our kit.
See how smooth assembly will go by viewing our simple five-step instructions. You can achieve the confidence and efficiency you desire!
Egg Cart'n is More than Just Wheels
Maybe building your own chicken tractor… doesn't look quite so attractive after all. If you want a ready-to-go chicken tractor kit, check out these other models, only from Egg Cart'n!
Frequently Asked Questions
What is the Optimal Wheel Lift Kit Coop Size?
For optimal portability, we recommend the lift kit for chicken tractors measuring up to 10′ x 12′ and weighing up to 400lbs.
Finalize Your Chicken Tractor
Building a chicken tractor takes a lot of engineering and time. Making the structure of the tractor is enough work, let alone trying to figure out how you will move it. You don't have to worry about this with the Egg Cart'n wheel/lift system. You can effortlessly add convenience to your chicken tractor.
Buy Now