The Egg Cart'n Mini
Small Backyard Chicken Tractor
Hens
Nest Boxes
Weight
Size
The Space-Saving Chicken Tractor
If backyard chicken farming feels out of reach for you because your yard is too small, or if you just want to start small in chicken farming, you have come to the right place. It is discouraging when a lack of time, space, or energy shuts down your dreams and aspirations. Your goals and hopes should not have to collide with your tight areas and busy schedule. There is another option. Continue reading to find out more.
Utilize small space to create enormous change.
Don't let small spaces hinder you from becoming the natural backyard permaculture farmer you long to be. With our Mini Egg Cart'n chicken tractor, you can become a healthier and more self-sufficient individual or family, even if you're feeling space-limited.
Healthy Chickens. Healthy You.
You and your chickens will enjoy optimal health with The Mini Egg Cart'n chicken tractor. Nutrient-filled eggs, a natural diet for chickens, and vibrant lawns are just the beginning. You can have all of these things and more, even when limited by a small backyard.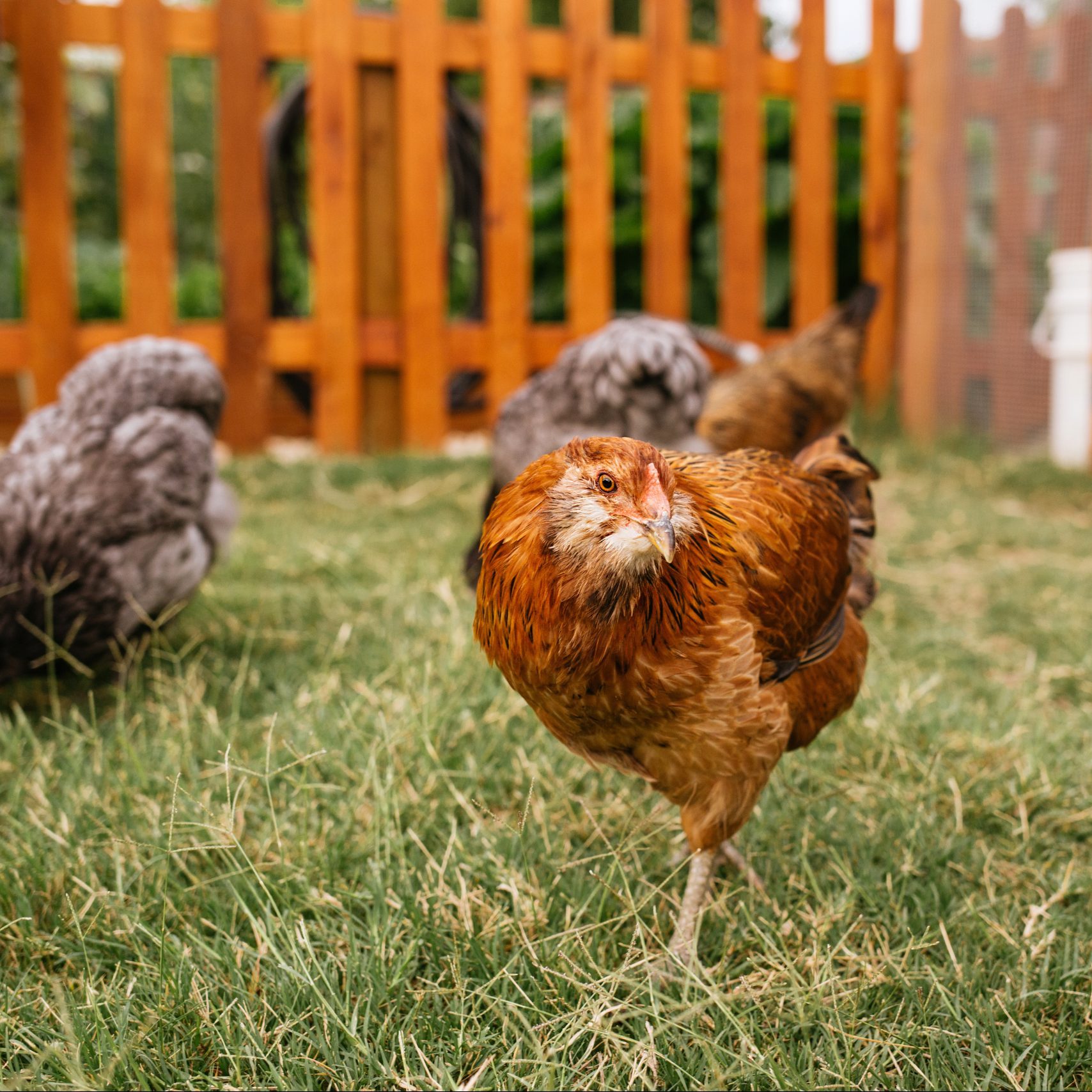 Small Space? Small problem!
The name gives it away. If you want to farm in small areas, you need the purposefully designed Egg Cart'n Mini. To fully utilize the benefits of the Mini, you need enough room to move the tractor around, but it doesn't require as much as you think.
An Awesome Hobby that Fits Your Schedule
Raising your own chickens sounds super time-consuming, but it doesn't have to be. Our Mini Egg Cart'n only requires the daily move, feeding and watering your chickens, and an occasional clean. You can easily incorporate these things into your busy schedule.
Success Is Waiting for You in Your Own Backyard!
Buy Now!
This Small Coop Works. And it Works Well.
You want your supplies to work when you invest in something as significant as backyard chicken farming. That is why Egg Cart'n determines to engineer their products to fulfill your needs and expectations. We design our products to be collaborative, safe, and convenient.
It's Collaborative
Let's just say you don't want to miss out on an opportunity to utilize a system that allows your chickens and lawn to work together to create beautiful things. The daily move of your Mini Egg Cart'n gives the chickens access to fresh nourishment from the ground. They fertilize the soil and give you fresh eggs full of excellent nutrients in exchange. You, your chickens, and your lawn will benefit from this fantastic setup.
It's Safe
You want your birds to be safe, and we do too. We have created the Mini Egg Cart'n to be predator-resistant and robust in nasty weather. The daily move and raising the ramp at night cut down the probability of predators gaining access to your birds. The Kit also includes corrugated plastic skirting to protect chickens during cold weather. We want your birds to stay safe with our Mini Egg Cart'n that lasts for a lifetime.
It's Convenient
The intentional design of our Mini Egg Cart'n makes operating and maneuvering it extremely easy. You can assemble it quickly with our detailed instructions and included hardware. Removing the ramp makes cleaning easy, and the perforated floor allows the tractor only to need cleaning every month or two. The handles make moving it like a wheelbarrow easy. Retrieving the eggs is made easy with a door leading into the nest. There is also a sliding door on the side to allow your chickens to have free range. All of which can easily be done in your small yard.
Buy Now
Features of This Small Chicken Tractor
Your small backyard can soon be transformed to a tidy chicken farm with our mini movable chicken tractor. Backyard farming could not be simpler. This mini chicken tractor is designed for your sucess!
EZ-lift System
With its own unique hinged design, the Egg Cart'n Mini raises onto two wheels and moves effortlessly like a wheelbarrow.
Ramp and Flooring
You can raise the ramp for protection from night predators, lowered for grazing access, and removed for cleaning. The perforated floor allows for easy cleaning of this coop.
Nest Box
The round opening on the nest box encourages the hens to spend just the necessary time nesting, but no more.
Collection Door
Your delicious mouth-watering natural and healthy eggs are just a sliding door away!
Roost
The included roost makes your chickens feel comfortable and at home, even in a small enclosure.
Feeder
The feeder attaches conveniently to the side of the chicken tractor
Sliding Gate
Ready to allow your hens out of their small bunker? Great, just raise the gate and let them run!
Weather Skirting
When it gets cold outside, just snap-on the skirting to protect your precious flock.
Mega-success with the Mini-tractor
1. Set Up
Assemble tractor, add hens, and feed and water.
Starting even a small flock of chickens can be intimidating. It doesn't have to be. The Mini Egg Cart'n kit makes beginning small backyard chicken farming possible and easy.
2. Team Up
Move daily (whenever you feed and gather).
The daily move is so important. It keeps your chickens healthy and clean and doesn't take long. The Mini Egg Cart'n is lightweight and easy to move in your backyard.
3. Live UP
Experience joy from clean and healthy food, birds, and lawn.
Success is easy to attain. As you can see, following a few simple steps will give you the success you are looking for with your small backyard flock.
Buy Now
our feedback
What customers are saying…
Hi!  Just wanted to let you know, my daughter, our chicks and I LOVE our tractor…You clearly thought of everything necessary to raise chickens when you designed the Egg Cart'n.  I'm completely satisfied with our purchase and highly recommend it for anyone wishing to raise chickens.
Sue R
This purchase allowed me to have peace of mind that my new chicks were safe in the mobile coop from my existing older flock because they were separated all summer. I bought from Egg Cart'n because it looked like a quality-built coop that was easy to move. I am very satisfied with my purchase. It was a perfect solution to move chicks from a brooder to the Egg Cart'n and not put them with my existing flock until winter when they were then the same size. The mobile coop was easy to move around, easy to spray clean, and the sides were easy to put on when the weather was bad. Great product!  
Tammy F.
I have a small place 1.8 acres. I like to be able to rehome the chickens with the season and it is easier to keep them clean with close neighbors when you can move the house.     The first one works great, so I bought the second one.  It is sturdy and holds up to the chickens and moving.  It moves pretty easily except I need a little help going uphill at age 68. I am recommending it to my sister who just retired and wants to consider chickens now too.  
Daria A.
Using the Eggcartn chicken tractor was SO easy!!!! Easy to move, easy to hose out and safe for chickens!
Dawn K.
This chicken tractors will last, they are easily pressure washed for keeping clean. These are made with quality materials, mechanical lift system. They are protected from predators . We added homemade runs so they can safely go outside.  The panels keep the wind and cold in the winter. We wired ours with a light which keeps warmth in as well as power for water to keep warm.     The Chalet is our favorite design, the extra height in the roof works better for roosting, cleaning etc.  
Susan G.
We love being able to move the coop around, it cuts down on any smells, fertilizes our lawn, and the chickens get fresh grass every day or two. Even with a coop that drastically exceeds the EggCart'n wheel kits max weigh limit, I can still usually pull it by hand. If on uneven ground or a hill, I just pull it with our tractor.
Todd L.
I'm very pleased with my purchase.  It is well designed and was easy to set up.  I made my chicken tractor out of a 10×10 Chainlink dog pen and the eggcart'n works great with it!  It is very heavy duty and will travel over some fairly uneven terrain.  You guys deserve top marks on the design.  Worth every penny!  
John H
So, I built an A-frame chicken coupe for my wife. I found the plans online and in my typical fashion I overbuilt it. The plan was to be able to move it around the yard. It was way to heavy to move with just a dolly. I came across your product while trying to resolve the moving of the heavy overbuilt chicken hutch. That being said your product has made our lives so much easier. We are able to move the hutch all around the property with relative ease.  
Jeff G.
Assembling the Mini Egg Cart'n
Ready to make the Egg Cart'n Mini come to life for yourself? Our Mini kit comes with all the material you need to assemble it. The only other things you will need are a few essential tools and a friend. You will make your small portable chicken tractor a reality in about an hour or two with these two things.
See how to get started. Explore our straightforward assembly instructions and the video of how assembly works. The video is unique because it is not a time-lapse. The video is in real-time, giving a realistic picture of what the setup may involve.
Which One Fits You?
Perhaps The Mini is actually too small for your backyard egg farming ambitions… take a look at our other models to make sure you get the right fit for your scenario!
Frequently Asked Questions
How do you calculate shipping prices?
Customers pay the actual price of shipping which is calculated at checkout. 
How often do you recommend cleaning the coop?
The Egg Cart'n includes a perforated floor that cuts down the number of times cleaning is needed. However, every month or two, you may need to scrape out residual droppings that have built up over time. It is also essential to clean and disinfect the tractor between flocks. You can easily do this with a hose and brush. 
Does the Egg Cart'n work for any animals besides chickens?
Yes. People have used the Egg Cart'n for rabbits and puppies, and it would probably work for other small animals. 
Is there danger of the wind tipping the Egg Cart'n over?
High winds could tip the Egg Cart'n over, but typical winds are not a problem. We live on the plains of Kansas, where there is plenty of wind, and we have had no issues with the wind causing damage to our Egg Cart'n. 
What is the white material used for the panels, skirting, and doors?
We've specially-selected 10-millimeter corrugated plastic for a sturdy and lightweight material, including a UV inhibitor to retard breakdown in sunlight. 
Read All Questions and Ask Yours
Get Your Egg Cart'n Mini Chicken Coop
You may have believed the lie that you cannot experience backyard farming in a small space. The truth is You can do it. You can become a backyard chicken farmer who cares about permaculture and becoming healthier.  With the Egg Cart'n Mini, you can experience the benefits of having chickens in your backyard with less stress and mess than you imagined possible.
Buy Now