The Egg Cart'n Classic
Our Original Stress-free Chicken Tractor
Hens
Nest Boxes
Weight
Size
Embrace Stress-free Backyard Chicken Farming!
Maybe you're already on your journey to becoming more natural and living better with the earth, or maybe you want to start one. Either way, the stress-free Egg Cart'n classic chicken tractor is for you. You can give back to the earth and return to natural ways of doing things. Instead of blindly accepting life as it is, you can be intentional about living better with the earth now.
Healthy. Happy. Holistic.
Our world is full of products that hinder becoming more natural. This is discouraging and overwhelming, but don't let anyone tell you it is not possible to become more natural. It is possible! Our Classic Egg Cart'n is a lightweight chicken tractor that works towards this goal. It is simple to use and helps you become more healthy, happy, and holistic.
Health Awaits
We are designed to live well with the earth. The Egg Cart'n Classic makes this possible. The daily move of the Egg Cart'n Classic will keep your chickens healthier, giving you top-quality eggs. These eggs that are more nutrient-filled than anything you can buy in the store, will give you a boost in your healthy diet.
Stress-free Chicken Raising.
An endeavor as substantial as backyard farming usually comes with a lot of stress and hassle, not only to start but also to maintain. It doesn't have to be this way. The stress-free Egg Cart'n Classic makes raising chickens easy. You can become confident by raising chickens without the stress.
Everybody Wins
With the Egg Cart'n Classic Chicken Tractor everybody receives benefits. Your chickens receive more nutrients. Your lawns receive fertilization. You and your family experience the joy of caring for animals and raising your own food, and receive health benefits from nutrient-filled eggs. And your neighbors won't complain about a constant chicken stench. Everyone is happy in the chicken raising process.
Receive Stress-free chicken tractor!
Buy Now!
 Enjoy A Functional, Convenient, And Durable Chicken Tractor
We care that you do not have to do more work than necessary. Because of this, we have designed our lightweight Egg Cart'n chicken tractors to be functional, convenient, and durable.
Its Functional
Our Classic Egg Cart'n is designed to help you feed and care for your birds. It is a chicken tractor for 8-10 chickens. Two doors in the front give access to the feeder and watering bucket (included in the kit) to keep your chickens alive. The included roost is perfect for your chickens to enjoy resting or taking a snooze. The chicken tractor is equipped with two nesting boxes for your chickens to lay eggs. In general, chickens will never use more than two nesting boxes. Which is why we have only installed two nesting boxes to make your job easier.
It's Convenient
Everything about the Egg Cart'n Classic is designed for your convenience. You will find assembly easy with our detailed instructions and included hardware. Almost anyone can move the Classic with our EZ-lift wheel system. Collecting eggs does not take long, with the sliding door opening right into the nesting boxes. The daily move and the perforated flooring make your job of cleaning pretty simple. Residual droppings can be scraped out the front and scattered as fertilizer or added to your compost for an extra boost.
It's Reliable
There's no point in buying a chicken tractor that doesn't protect your chickens and will break down after a year or two. Don't worry; the Egg Cart'n Classic is designed to be durable and safe. Egg Cart'n chicken tractors are designed to keep predators away, but you've got to be proactive. Predators like to scout out their territory before attacking. If you follow the daily move, you can reduce the probability of animals digging underneath or attacking your birds. You can also raise the ramp at night to protect from night predators. Adding corrugated plastic skirting to your chicken tractor protects chickens in cold weather.
Buy Now
Features of The Stress-free Classic
Backyard chicken farming will be taken to a new level of stress-free with our Classic Egg Cart'n. The Classic is made with many quality materials that makes convenience inevitable. It is a lightweight chicken tractor designed for 8 – 10 chickens. With the Classic you will be pleased, and your small brood of chickens will be healthy and safe from predators.
EZ-lift System
EZ-lift system for easy movement—The Egg Cart'n Classic raises onto four wheels, latches in place, and rolls easily over grass. The EZ-lift system sets the Egg Cart'n apart from other chicken tractors of similar size.
Ramp and Flooring
The ramp can be raised for protection from night predators, lowered for grazing access, and removed for cleaning. The perforated floor allows for easy cleanup.
Nest Boxes
The double nest box provides a convenient place for the chickens to lay their eggs, and for you to collect them. The round openings encourage the chickens not to spend unnecessary time.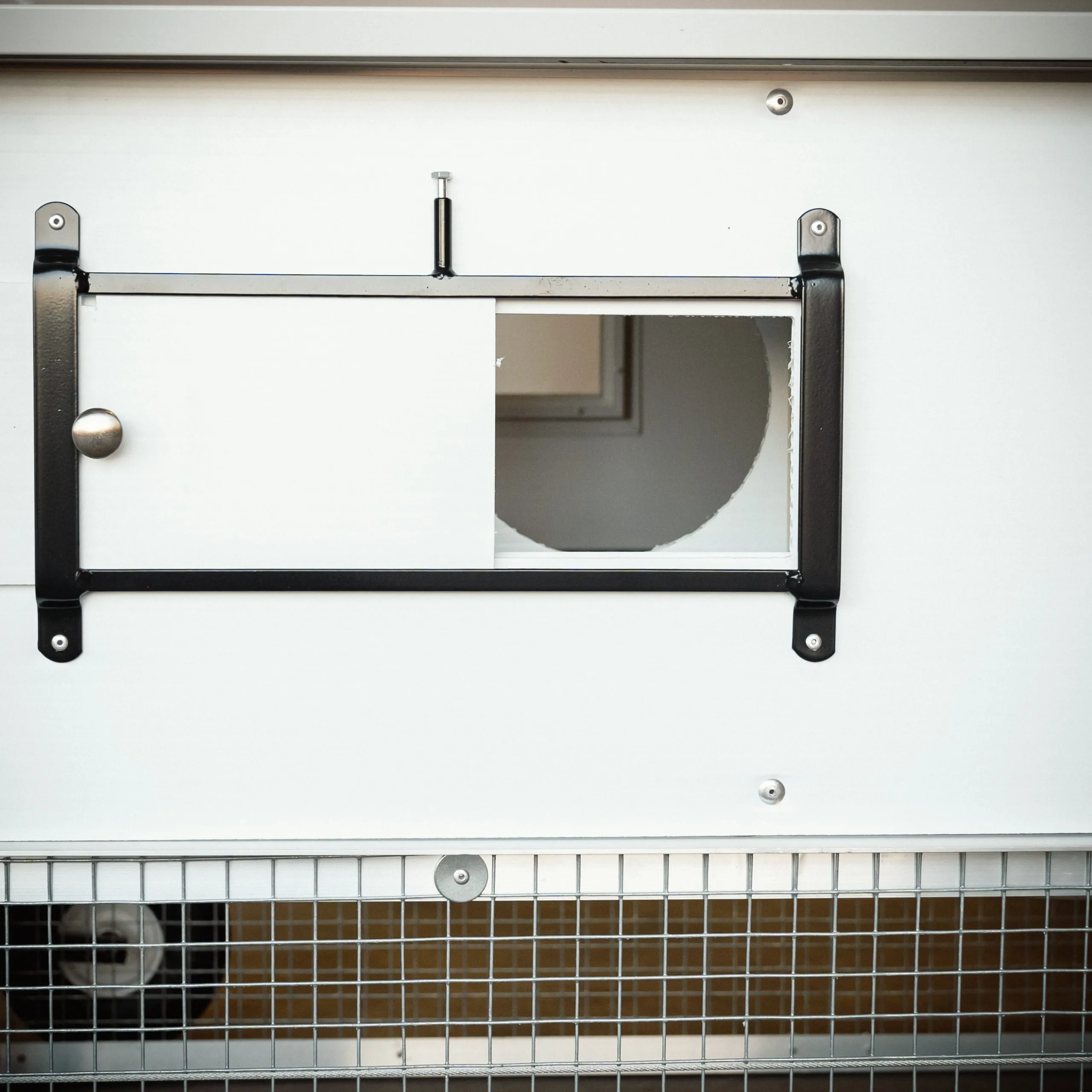 Collecting Eggs
This is the best part! Easily retrieve your eggs from nesting boxes through the sliding door.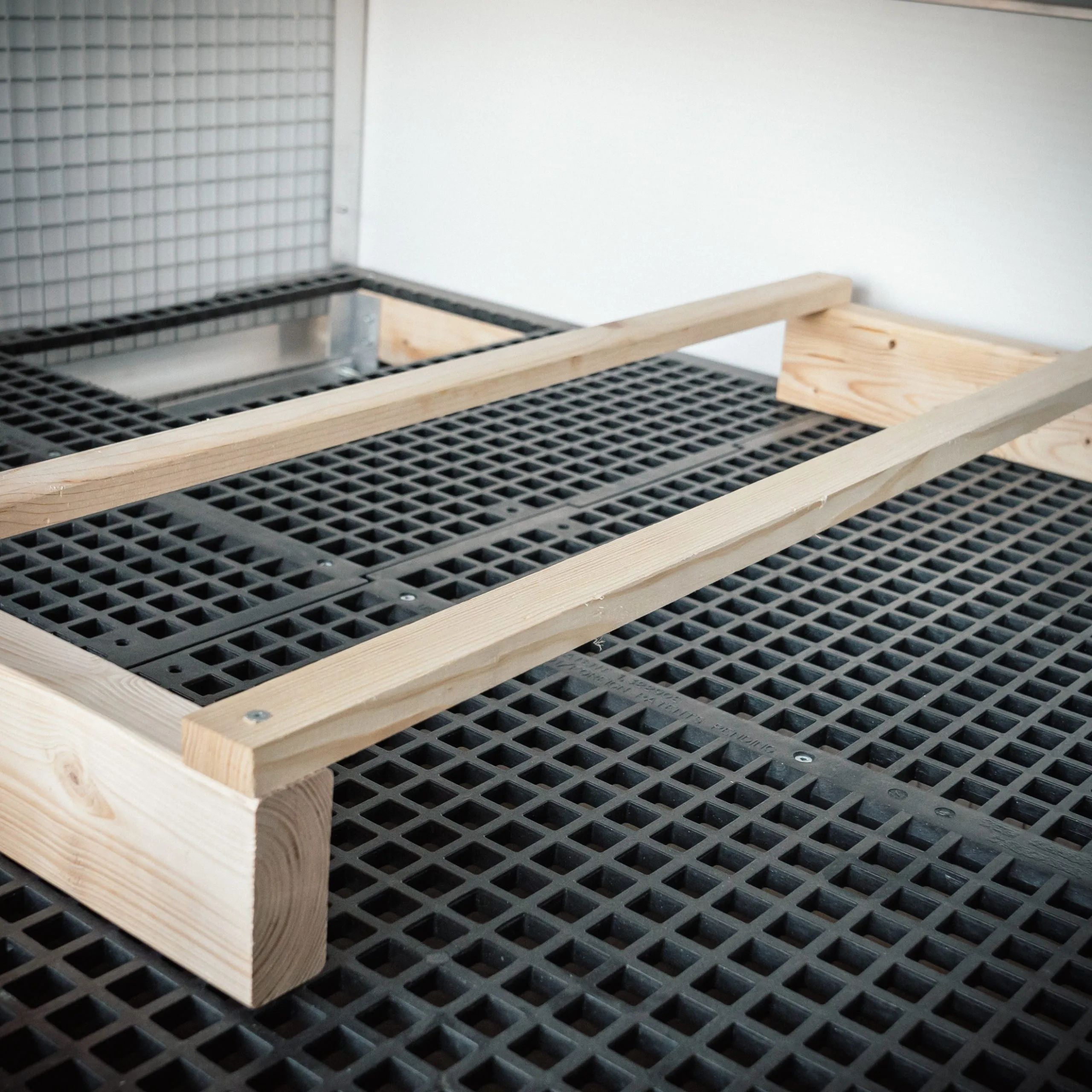 Roost
The roost provides comfort and safety for your backyard chicken pets.
Feed & Water
The feeder and watering bucket hang conveniently from the dedicated hanging brackets.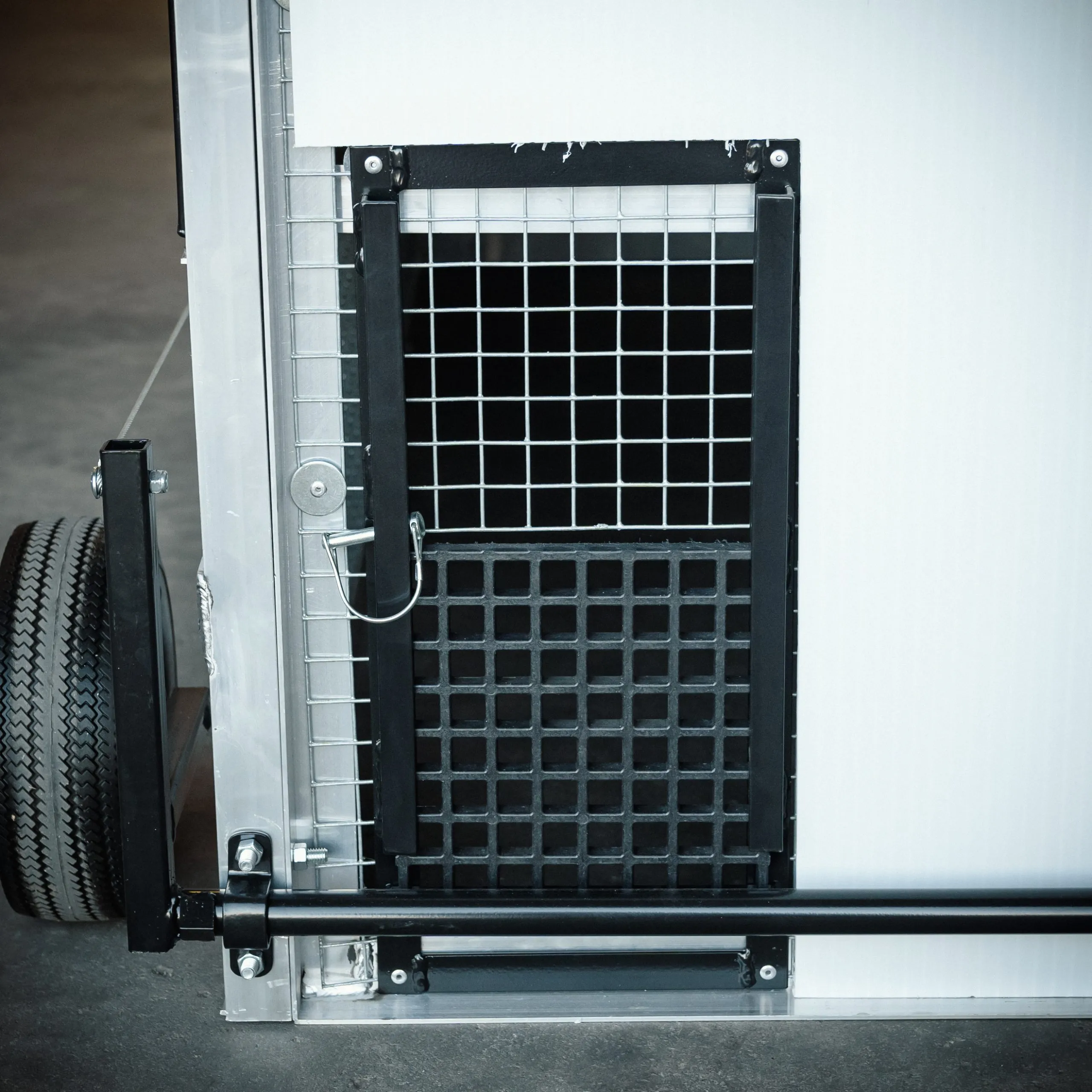 Sliding Gate
The sliding gate allows the chickens to enjoy free-range access to your yard, whenever you wish for it.
Weather Skirting
The included corrugated plastic skirting can be snapped-on to protect chickens during cold weather.
Journey to Success with The Classic
1. Set Up
Assemble tractor, add hens, and feed and water.
Getting started is made simple with the Classic Egg Cart'n. Our kit makes assembly easy, and like magic, your chicken tractor is ready to house your small flock.
2. Team Up
Move daily (whenever you feed and gather).
Do not skip this step! The daily move is crucial to achieving success with your Classic Egg Cart'n. Moving it does not take long. Just move it as you feed and gather.
3. Live UP
Experience the joy of clean and healthy food, birds, and lawn.
Ultimately, you want to profit from your chicken raising experience. This stress-free process will give you the rapid success you desire. Your satisfaction is imminent.
Buy Now
our feedback
What customers are saying…
Hi!  Just wanted to let you know, my daughter, our chicks and I LOVE our tractor…You clearly thought of everything necessary to raise chickens when you designed the Egg Cart'n.  I'm completely satisfied with our purchase and highly recommend it for anyone wishing to raise chickens.
Sue R
This purchase allowed me to have peace of mind that my new chicks were safe in the mobile coop from my existing older flock because they were separated all summer. I bought from Egg Cart'n because it looked like a quality-built coop that was easy to move. I am very satisfied with my purchase. It was a perfect solution to move chicks from a brooder to the Egg Cart'n and not put them with my existing flock until winter when they were then the same size. The mobile coop was easy to move around, easy to spray clean, and the sides were easy to put on when the weather was bad. Great product!  
Tammy F.
I have a small place 1.8 acres. I like to be able to rehome the chickens with the season and it is easier to keep them clean with close neighbors when you can move the house.     The first one works great, so I bought the second one.  It is sturdy and holds up to the chickens and moving.  It moves pretty easily except I need a little help going uphill at age 68. I am recommending it to my sister who just retired and wants to consider chickens now too.  
Daria A.
Using the Eggcartn chicken tractor was SO easy!!!! Easy to move, easy to hose out and safe for chickens!
Dawn K.
 Get Started with Your Kit
Are you ready to get your personal Egg Cart'n Classic? Assembling the Egg Cart'n Classic is very straightforward. You need a few tools, a friend to help you, and our trusty assembly instructions. If you have these things in place, you will have a portable, lightweight chicken tractor in an hour or two.
Go for it! You can put it together. We do not want this process to be more complicated than it has to be. See our instructions in the pdf or watch a video to see how assembly works. The video is not a time-lapse and realistically shows what setting up entails.
Which One Fits You?
All of our products are made with quality materials and designed for your success, but you need to figure out which of our products are for you. This comparison chart gives you some of the basic differences between our different models. Find the model that best fits you.
Frequently Asked Questions
How long does shipping take?
Shipping takes about four to seven business days for most locations. 
Is the Egg Cart'n too heavy to move easily?
No. The Egg Cart'n is designed to be stress-free and lightweight for ease of transport. This is made possible because of the aluminum frames, making the Egg Cart'n lighter than it looks. The wheels also aid in this process by being big enough to roll over grass easily. 
How often should the coop be moved?
We recommend the daily move for full-sized flocks of eight to ten chickens. However, the frequency of moving depends on how many chickens are in the tractor and the quality of the turf they are grazing. The more chickens there are per square foot, the more often the pen will need to be moved to prevent damage to the turf. 
Is the Egg Cart'n predator-proof?
Nearly. It is predator-resistant, meaning it is resistant to predators, but it takes some proactivity on your part. The daily move and locking the chickens upstairs at night by raising the ramp makes it virtually impossible for small predators to attack the chickens. Snakes could be an issue in some locations, and bears could be an issue in others, but we have been well pleased with the predator protection the Egg Cart'n provides. 
Isn't the Egg Cart'n too small to hold 8-10 chickens comfortably?
Opinions on this matter vary, but we have seen ten or even twelve chickens thrive in an Egg Cart'n. The most important thing is that the chickens are happy and healthy. Since the Egg Cart'n has two levels, the chickens have well over 40 square feet to move around. Observing your hens is one of the best ways of knowing what is appropriate for your flock. 
Read All Questions and Ask Yours
Get your Stress-free Chicken Tractor!
The Egg Cart'n Classic not only houses your chickens, it changes your life. With the Classic, you become healthier without added stress and headache. Not only do you become healthier, but your chickens and backyard do as well. Being healthy and having happy hens and a luscious lawn will boost your confidence and make you happier.
Buy Now