Sophisticated Backyard Chicken Tractors
You never knew keeping chickens could be this easy, clean, and rewarding!
What comes to your mind when you think of raising chickens? Perhaps it's the satisfaction of eating your own eggs, or tending a "flock" … oh, but how about the smelly coop? The messy yard? The fussy neighbors? Arg!!!
Well, we have good news for you! Enter the EggCart'n Chicken Tractors. This breakthrough in backyard farming gives you all the perks but without the quirks of maintaining a chicken coop and raising your own chickens.
Choose Your Kit
The Genius Chicken Tractor Cycle
The chicken tractor isn't just a coop that just happens to be on wheels because someone happened to make it portable, it's a whole new way of raising chickens and eggs in your backyard. Operating a chicken tractor joins you in a permaculture revolution that makes life better for you, your chickens, and your environment.
 1. Move Daily ➡️
The real genius of a chicken tractor is how it's built to move daily. This unleashes an amazing new twist in the relationship between your lawn and your brood.
2. Fresh Foraging ⤵️
With every move of the chicken tractor, the hens in your coop have fresh ground to forage (every day!). This means more bugs, happier hens, and better eggs for you!
3. Easy Fertilization ⬆️
By moving your chicken tractor routinely, droppings are evenly distributed, providing excellent fertilizer while minimizing the cleaning and maintenance of the coop.
In a word… wheels move your coop from easy to ingenious.
Choose Your Tractor
The EggCart'n Chicken Tractor.
A backyard egg farm that fits you and your property!
Keeping your own chickens can be soo rewarding, but no-less messy and troublesome. Do you long for a way to keep chickens that fits your time, space, and available mental bandwidth? Well, good news! This is the whole point of the movable EggCart'n Chicken Tractor. Simply incorporate the EggCart'n daily move for backyard chicken farming that's stress-and-mess-free and fits busy schedules and even tight spaces.
A Chicken Enclosure without the Maintenance
A chicken enclosure is a no-brainer. Not only do enclosures keep your chickens safe from predators and harsh weather, but it also gives them a convenient place to lay their eggs for you to retrieve. Many turn immediately to a backyard coop, but soon find that this requires a lot of work to keep clean and livable for the chickens. Most of us do not have the time or energy to fit another huge endeavor into our lives. This is where the EggCart'n chicken tractor comes in. The only maintenance required is the daily move (and an occasional rinse with a hose).
"Free-range" Eggs without the fuss!
By routinely moving your Egg Cart'n, you provide fresh bugs and clean space for your hens. This gives you all the perks of health-packed free-range chickens and eggs, without the hassle of fencing or the danger of loss to predators.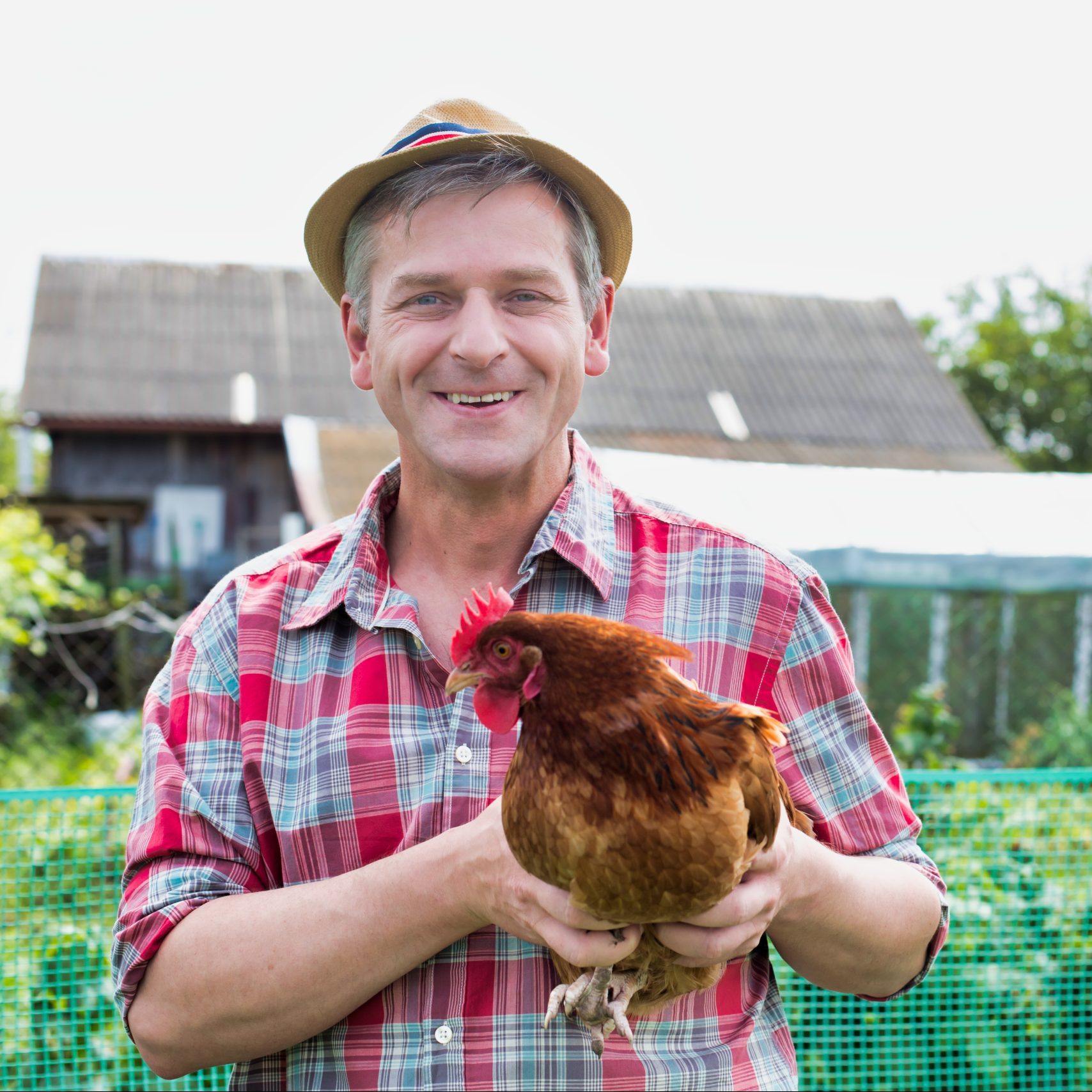 Be a Good Egg with your Neighbors
Keeping a backyard flock of chickens isn't known as the most "aesthetic" hobby. Enclosed chickens tend to smell bad, attract flies, and kill grass. Sounds like a great recipe for great neighborly relations, right? Or not… Wave goodbye to sideways glances with the EggCart'n daily move. Moving your chicken tractor daily means low smell, fresh grass, and keeps pests under control. You and neighbors alike will admire how clean and good-looking your hobby egg farm can be!
 What you get with an EggCart'n Chicken Tractor
We care that you do not have to do more work than necessary. Because of this, we have designed our simple Egg Cart'n chicken tractors to be functional, convenient, and durable.
It Works
Our mobile chicken tractor not only works, but it works well. Being able to move your chicken enclosure facilitates symbiosis which creates a better lawn, happier chickens, and a healthier you. Our rolling EggCart'n chicken tractor makes this possible and easy.
It's Easy
Everything about the EggCart'n Chicken Tractor is easy! It is easy to assemble using the kit that we send to you. It is easy to move, which fosters the growth possible through symbiosis. It is also easy to retrieve the eggs for consumption.
It Lasts
Wanna save money on your chicken tractor? Not to throw eggs at the competition… but many chicken tractors are simply not built to last. Egg Cart'n chicken tractors are meticulously designed with quality materials that remain sturdy in harsh weather and preserve their strength for years. You can put it in your will. Make your egg nest part of your nest egg!
Choose Your Kit
Features of Our Stress-free Chicken Tractors
When you own your own Egg Cart'n Chicken Portable Chicken Coop/Tractor, you'll know you've invested in a work of art and mechanical genius. Every feature is carefully planned and implemented by engineers who clearly love to take care of chickens!
EZ-lift System
These Tractor Coops don't just happen to be portable, they're made to move! The Egg Cart'n proprietary EZ-lift system makes raising and rolling your coop easy as pie and smooth as butter!
Ramp and Flooring
Cleaning your chicken tractor is a cinch due to the sturdy washable perforated floor. The ramp allows your brood to forage during the day, and can be raised at night for their protection.
Nest Boxes
Say goodbye to cracked and overly-dirty eggs with nest boxes that encourage your hens to spend just the amount of time necessary to lay and leave.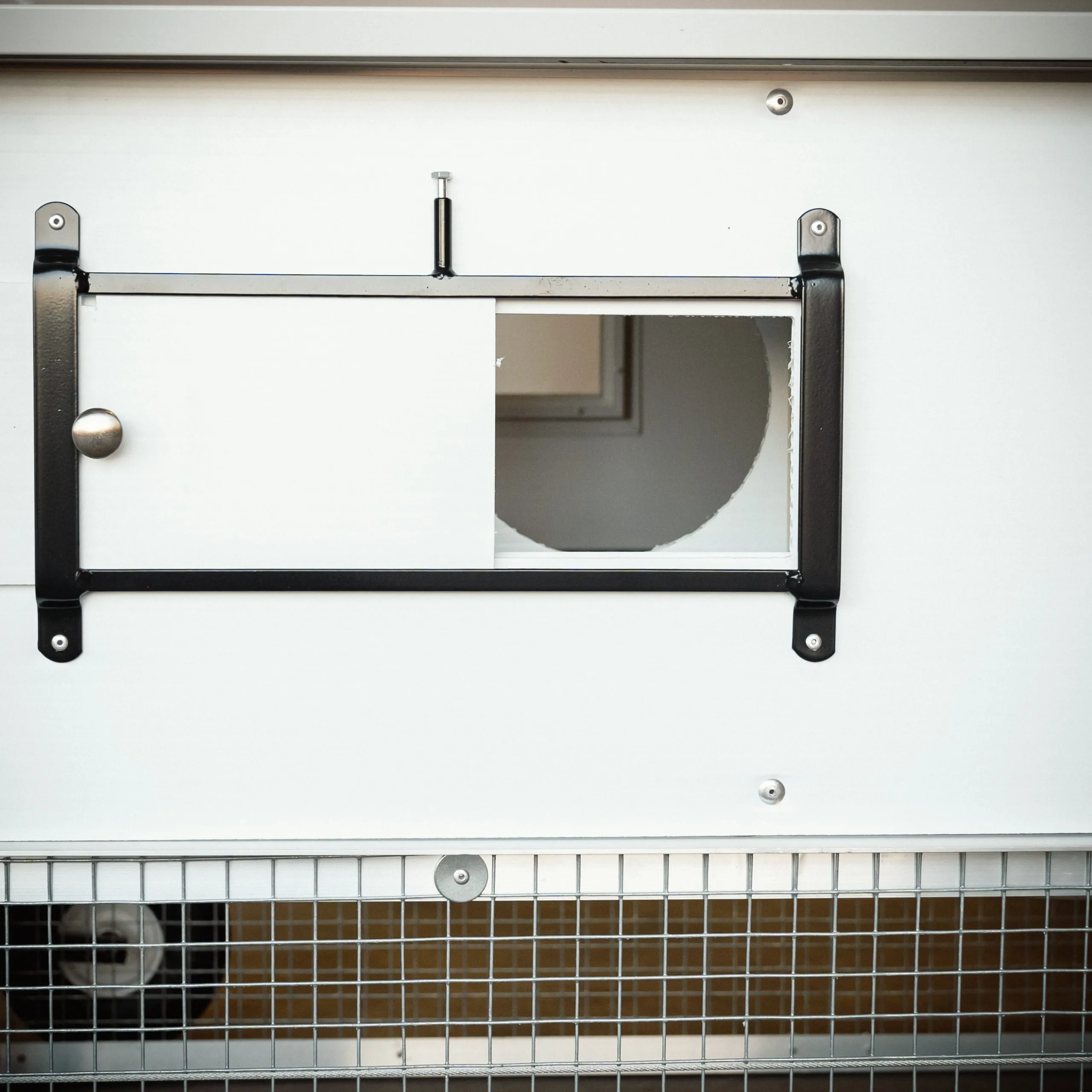 Collecting Eggs
The nest-access sliding door allows for convenient retrieval of your eggs.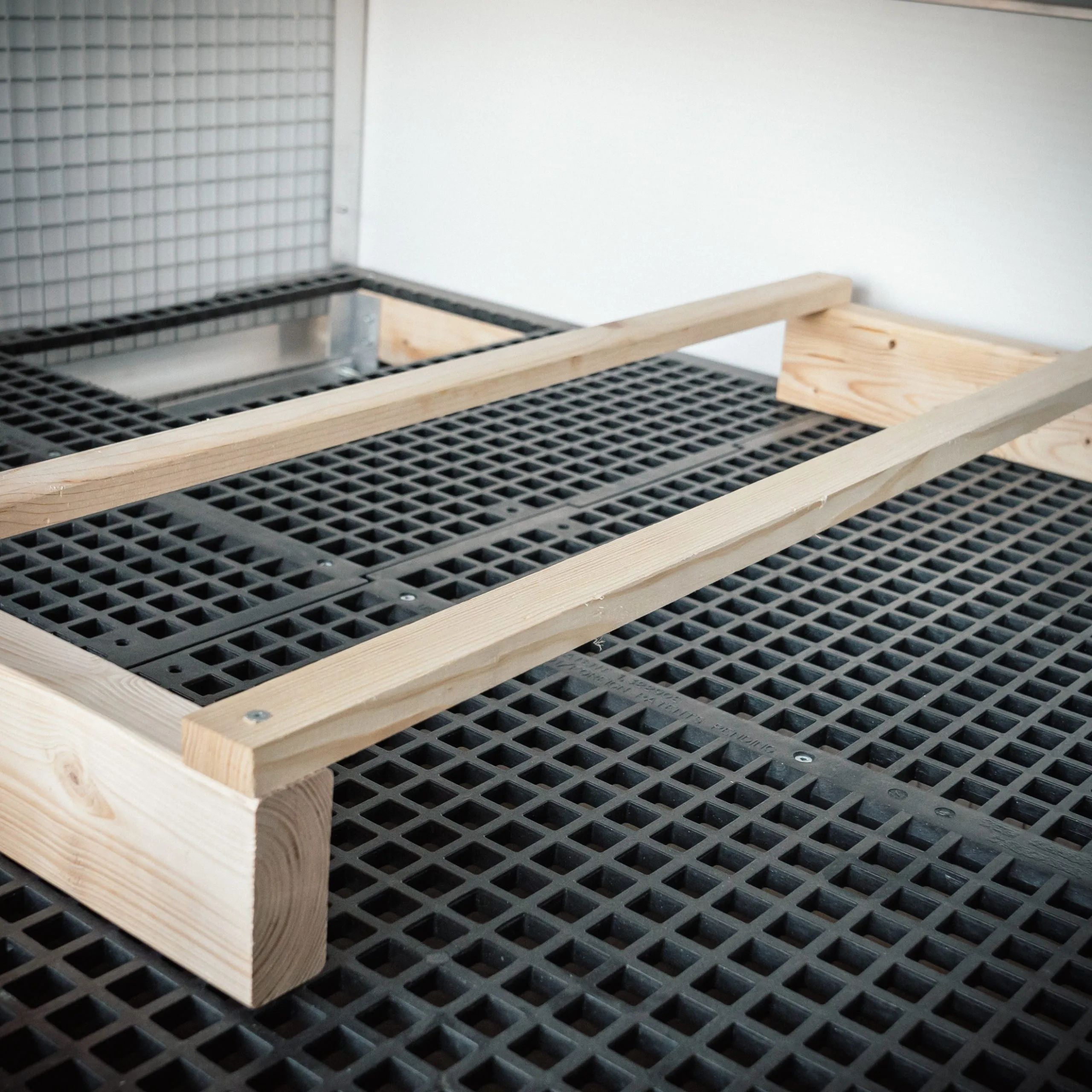 Roost
Your chickens will thank you for a bit of elevation, and we've got you covered!
Feed & Water
Every tractor comes with a robust and convenient food and water dispenser.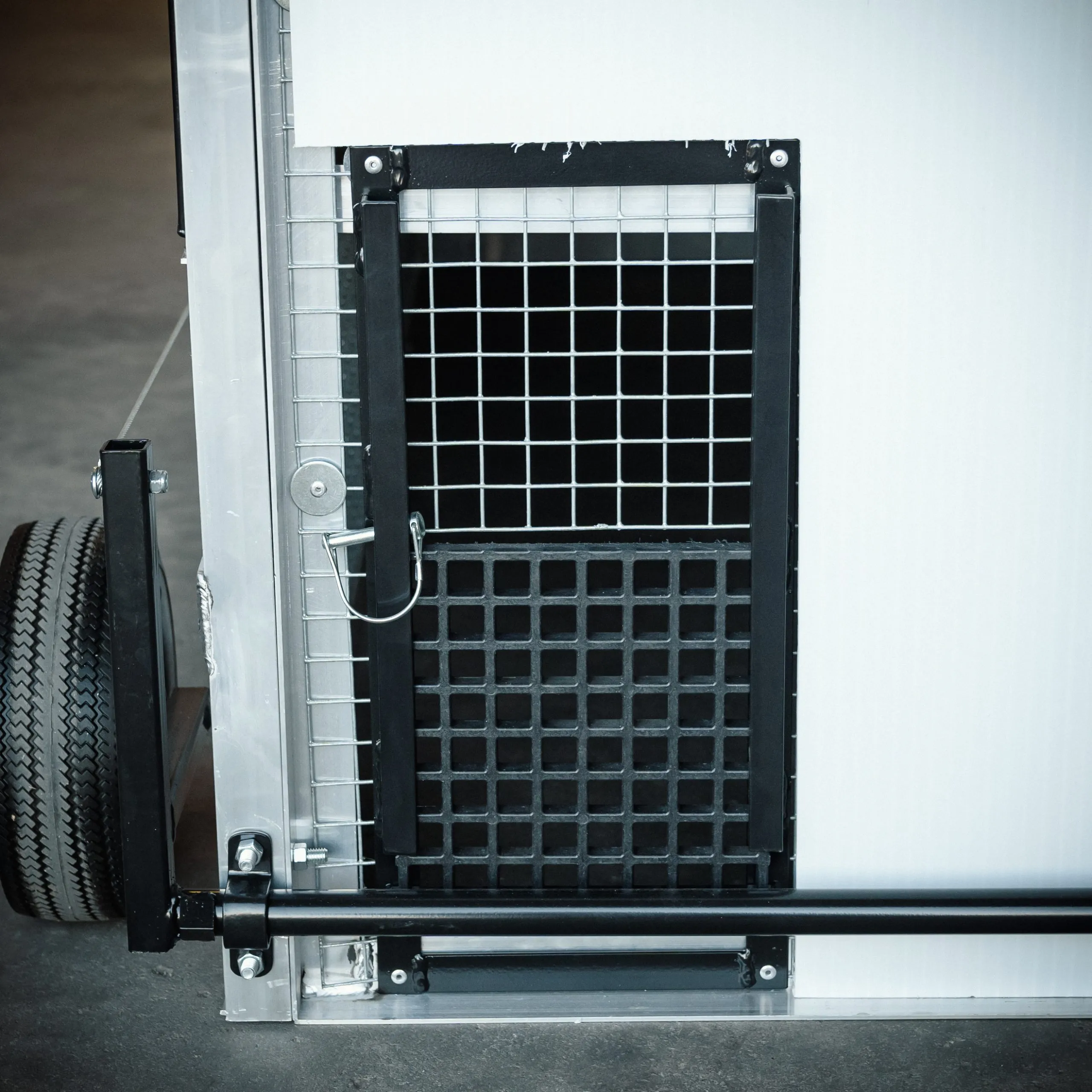 Sliding Gate
Like the idea of truly free-range eggs? The built-in sliding gate allows you to let your flock out whenever you please.
Weather Skirting
The included snap-on weather skirting protects your flock from cold-weather snow, winds, and rains.
our feedback
What customers are saying…
Hi!  Just wanted to let you know, my daughter, our chicks and I LOVE our tractor…You clearly thought of everything necessary to raise chickens when you designed the Egg Cart'n.  I'm completely satisfied with our purchase and highly recommend it for anyone wishing to raise chickens.
Sue R
This purchase allowed me to have peace of mind that my new chicks were safe in the mobile coop from my existing older flock because they were separated all summer. I bought from Egg Cart'n because it looked like a quality-built coop that was easy to move. I am very satisfied with my purchase. It was a perfect solution to move chicks from a brooder to the Egg Cart'n and not put them with my existing flock until winter when they were then the same size. The mobile coop was easy to move around, easy to spray clean, and the sides were easy to put on when the weather was bad. Great product!
Tammy F.
I have a small place 1.8 acres. I like to be able to rehome the chickens with the season and it is easier to keep them clean with close neighbors when you can move the house. The first one works great, so I bought the second one.  It is sturdy and holds up to the chickens and moving.  It moves pretty easily except I need a little help going uphill at age 68. I am recommending it to my sister who just retired and wants to consider chickens now too.
Daria A.
Using the Eggcartn chicken tractor was SO easy!!!! Easy to move, easy to hose out and safe for chickens!
Dawn K.
 Become a Backyard Chicken Buff!
1. Set Up
Assemble tractor, add hens, and feed and water.
Starting out on a new journey can be intimidating, but the process is simpler than you think. Our tractor kits are easy to assemble and make beginning backyard chicken farming simple.
2. Team Up
Move daily (whenever you feed and gather).
Move it, that's why it's called a chicken tractor. The daily move is crucial to keeping healthy chickens and a happy lawn. Our Chicken tractor makes this process very easy and speedy.
3. Live UP
Experience joy from clean and healthy food, birds, and lawn.
Taking these small steps and incorporating daily habits of caring for your chickens will bring you great success. You will experience a healthier you, happier chickens, and a vibrant lawn. Now go for it!
Get Started with Yours!
Which One Fits You?
Don't be a chicken about your backyard farming adventure! Choose the chicken tractor model that fits your yard and order the kit to get started!
Get your Stress-free Chicken Tractor!
You know that stress-free chicken-raising sounds amazing, but you won't know how awesome it really is until you get your hands busy with a chicken tractor of your own. Use the comparison table above to find the model that fits your chicken dreams!
Choose Your Model